How Can I Decorate My Dining Room Table Everyday?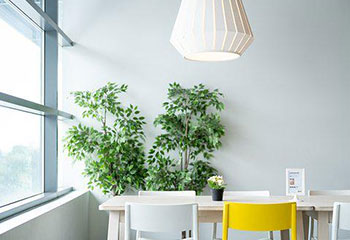 Are you curious about dining room table daily decoration ideas? See some interesting Dining table setting Ideas here.
Dining Table Decoration Ideas
Details matter, and in decoration, these details are found in the small objects that complement and complete the dining table design. Here are dining table decoration ideas that might benefit you every day. 
Vases With A Minimalist Design
Combine a pair of vases, one tall and one short, with a branch or leaf. Simple and decorative.
Two By Two
Playing with symmetry or even numbers is good to shape a dining table centerpiece by playing with symmetry or even numbers. Copy this idea: a couple of pots with orchids on a tray that groups them and some decorative ornaments from the same series.
A Natural Idea for the Dining Table Centerpiece:
Play with natural materials like wood or fiber to shape the composition. Perfect in rustic living rooms or on a rough wooden table. Put a plant in a basket or cover wicker pots and, in turn, on an individual tablecloth or wooden tray. The cotton rods also fit here to continue with that union linked to nature.
Full Color:
Place a smoked glass or colored ceramic vase and various fruits on a tray. Doing this can help bring more life to your dining table. You can change the colors as per the theme of the occasion and still maintain their beauty.  
Everyday Items:
We see items that are very decorative for the dining table every day. This is the case with teapots. Use them to decorate and create a raisin centerpiece for the dining table. 
With A Lot of Luxury:
Gold is the common thread of this composition to decorate the table: a golden box and a table lamp in the same finish. Playing with boxes to create a centerpiece works and will also help you hide, for example, the controls of audiovisual devices or glasses from view. 
Boxes And Bowls:
It is also a good decorating idea. Decorate the coffee or dining table with a centerpiece made up of boxes and bowls. Indeed, among the kitchenware, you will find some jewels that you can turn into a decorative element.
Vases and Bowls:
This is another idea to create centerpieces for the dining table. Choose one or two low-rise vases and a bowl and add volume by placing a branch or leaf inside the vase.
A Bowl and A Plant:
You can decorate the dining table with a larger bowl or bowl and a small plant, or vice versa. When you coordinate two or more different elements, enrich the composition with varied colors, sizes, and textures. If there is more than one element, remember that you can group them. A circular fiber tablecloth is enough to do it.
A Vase and Fruits:
It is aromatic and straightforward because if you decorate the dining table with citrus fruits, its scent will be felt throughout the room. It will be a natural air freshener. You can choose a vase of the same color as the fruit you choose or contrasted.
Milk Jugs:
Another household item is very effective in creating a dining table decoration. Also, you can combine it with plants to bring out its beauty for your dining table. 
Vintage Style Cages:
Recover an old cage or get one if you see it in an antique shop or flea market and turn it into a dining table decoration. You can decorate with some flora arrangement, and indeed it will sparkle your dining table. 
Artificial or Natural Plants:
The power of green. Plants are perfect for creating a dining table decoration. Combine different sizes and varieties of plants for your dining table decoration. If the table does not get a lot of natural light, turn to various light sources. They are very resistant and showy with their fleshy leaves. Show them off in different pots, and the composition will acquire charm.
Final Words
Decorating a dining table is one of the easiest things to do, and also it is easy to run out of ideas when you have to decorate your dining table daily. We hope our brief Dining table setting ideas presented above will help you in your everyday quest for your dining table beauty.