Top 5 Kitchen Storage Products to Organize Your Kitchen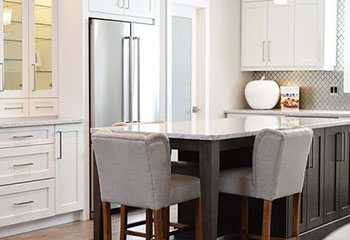 The collection of spices, the recycling bins, the dreaded pots, etc. The kitchen is full of objects that need an assigned place to get a comfortable and uncluttered work area. We help you achieve it with these kitchen storage ideas.
Highlights
A Decorative Tray on The Countertop
Drawers with Compartments
Separators for Plates
Removable Drawers in Small Spaces
Top 5 Kitchen Storage Ideas to Organize Your Kitchen
1.
A Decorative Tray On The Countertop
The first step in keeping your kitchen organized is to clear the countertop to become a comfortable and practical work area. Use a tray to group the items you use most often and keep it pretty to add a touch of style to the space.
2.
Drawers With Compartments
Don't let drawers become a source of clutter. Use dividers to sort content by category, adjusting them to what they contain to make the most of space. This is one of the most vital kitchen storage ideas.
3.
Separators For Plates
Stack plates and bowls so they take up less space. If you store them in a tall drawer, use dividers so they don't move when opening and closing and adjust them to the size of the kitchenware according to your needs. 
4.
Removable Drawers In Small Spaces
Any corner is good to gain some space! Do not miss the gaps between cabinets. Try installing small drawers to store spices, rags, tweezers to close containers.
5.
Pots And Lids
They are one of the things that occupy the most and tend to get messy. To keep pots and pans organized, set aside a large drawer to store them, organize them by size (so you can stack them), and separate the lids to store them vertically. You can add a non-slip sheet kitchen storage product on the base to prevent them from shifting.
How to

 

Organize Your Kitchen Using Storage
The key to order in the kitchen, as in the rest of the rooms in the house, is to have only what is necessary, assign them a place to store it close to where you are going to use it, and organize the space to make it functional and practical.
Please take advantage of the space of the drawers with dividers: it will help you keep everything organized.
Add a drawer or shelf to the toppers: save only items in good condition, stack them by size and separate the lids.
Bags are things that take up space and create a feeling of chaos. Also, remove the ones you don't need and store the rest in a drawer or box, folded or knotted, so they don't take up as much space.
In the cleaning closet, use boxes or baskets to organize the spare parts of small things (scourers, gloves, rags). Group the products you use most often in a box so you can take them out when you need them and return them to their place when you're done. Also, think about the doors: they offer you kitchen storage space.
Some modern kitchens have built-in storage solutions for recycling. If there is no assigned space in yours, reserve an area near the sink to store it, but never in sight. A practical idea is to use bags of the same color as the outdoor garbage containers to make it easier to select the garbage when you throw it away.
Store dishcloths and tablecloths folded vertically – they will take up less space.
In the pantry, reserve the least accessible areas for foods that you use less frequently and those that you use more in front. Always grouped by categories to know what there is. 
Some kitchen storage units include convenient accessories with swivel solutions for the corners, perfect for storing pots, pans, and small appliances.
If you like to have things in view, try to use the same elements to store and thus enhance the feeling of order: wicker baskets of different sizes, glass jars, wooden jars. You will get a magazine kitchen by following these seven steps.
The display cabinets are decorative and one of the best allies of the kitchenware: group the dishes by type and try to be of similar colors, not to create chaos.